Enzymes and Surface Water
---
Wiggins P1
1*Retired from the Department of Medicine,University of Auckland, New Zealand, and from Genesis Research and Development Company, Auckland, New Zealand.
Correspondence: p.wiggins@paradise.net.nz
Key Words: allostery, protein folding, water
Received 12 February 2009; revised 17 March 2009; accepted 9 April 2009. Published 1 July 2009. Available online 1 July 2009.
Summary
The broad OH-stretch band of the infra red spectrum of liquid water is shown to comprise two overlapping bands peaking at 3250 cm-1 (the value in ice, and, presumably, strongly bonded water) and 3635 cm-1 (presumably weakly bonded water). The spectra also reveal the coexistence of zones of LDW and HDW in small-pored polymeric matrices. Possible mechanisms of reactions catalyzed by these zones of water associated with enzymes are described. There is a crucial functional connection between the force that drives folding of an enzyme and reactions that it catalyses. When water can move to abolish osmotic pressure gradients created by selective uptake of solutes into HDW or LDW, it does so with some decrease in the partition coefficients of the reactants. When water is prevented from moving, partition coefficients are unchanged, increased or transiently inverted. Examples of allostery and Michaelis-Menten kinetics (Matthews and van Holde, 1990) are given.
Article Outline


Introduction
Amino acids are capable of only weak interactions such as dipole-dipole attractions, H-bonds and some attraction between positive and negative sites. It is hard to see, even with induced fit, what generates the extreme specificity of the assumed binding sites. When they were first proposed, there was no plausible alternative mechanism. This vacuum was not helped in the early 1970s by the polywater debacle, which erased water from the biochemical lexicon (Franks, 1981). Now, however, two kinds of surface water with different solvent properties do supply plausible alternatives of great specificity. They have been shown to exist in solutions and at surfaces in non-biological systems such as porous beads and desalination membranes. Other attributes of these different surface waters are discussed here to see to what extent they are consistent with the extensive experimental data on enzyme reactions.
Generation and Properties of the Zones of High Density Water (HDW) and Low Density Water (LDW)

---


Figure 1: a small solute (red) has dissolved in (a) "classical water," (b) HDW, and (c) LDW. In each case,water immediately adjacent to the solute has a lower concentration (activity) than the same volume away from the solute. This activity gradient results in a pressure gradient, which is positive immediately adjacent to the solute and negative further away. a, nothing happens because "classical" water is assumed to be impervious to the low pressures encountered in osmotic systems; b, water immediately adjacent to the solute is already HDW and is not further affected; c, water immediately adjacent to the surface is converted to HDW, while water in the zone of negative pressure is already LDW and is not further affected.
---
Figure 1 shows that at a surface, such as that of a protein, there is a gradient of water activity (Wiggins, 2008a), low near the surface and higher further out. Water in the zone of higher activity tends to move in to increase its activity in the zone of low activity. Since it cannot do this, the water activity gradient becomes a pressure gradient, with positive pressure on water at the surface and negative pressure further out. Hitherto, this gradient has been interpreted as just two zones of water: high density water (HDW) immediately close to the surface and low density water (LDW) further out. When it comes to enzyme function, this sharp division lacks subtlety. The gradient of pressure is continuous: the composition of the water changes from highly enriched in HDW at the surface to highly enriched in LDW where the pressure is most negative. The zones of HDW and LDW at the surface, therefore, are not pure and can be manipulated. This modification is necessary in order to explain many experimental results with enzymes and with non-living systems such as small-pored polyamide beads, and solutions of dextran sulphate. These results will be shown as they become relevant.
A Representative Reaction in HDW
A + B = C + D 
---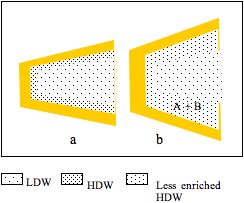 Figure 2: a, a cleft between two protein domains contains HDW at the surfaces and LDW in the centre; b, A and B partition into HDW; LDW/HDW moves into abolish the osmotic pressure gradient; most of this water converts to HDW because it is in the zone under positive pressure from the surface, but the extra water encroaches on the zone of negative pressure; its average enrichment with HDW decreases. The reaction (A + B = C + D) takes place and C and D diffuse out.
---
Figure 2 shows that uptake of A and B is accompanied by flux of water from the external solution of LDW/HDW into the zone of HDW. Since, however, the pressure gradient imposed by the surface has not changed, some extra water encroaches on the zone of negative pressure. This decreases the effective enrichment of HDW in the solution round A and B and, therefore, the partition coefficients of A and of B between LDW/HDW and the HDW-enriched zone. It is labelled 'less enriched HDW.' Water, however, retains enough enrichment of HDW and high enough concentrations of H+ and OH– to catalyze the reaction, producing C + D.
Although C and D have greater affinity for HDW than have A and B (or the reaction would not take place), their concentrations in the larger volume of LDW/HDW are both zero, allowing them to diffuse out spontaneously.
To summarize: each time a solute is taken up into HDW:
folding of the parent protein loosens, as HDW increases, allowing the cleft to open to the influx of water.
LDW/HDW moves into the zone of HDW surrounding the solutes
where it is in the zone of positive pressure, it is converted to HDW
the extra water cannot all fit in the zone of positive pressure: it encroaches on the zone of negative pressure (compare Figures 2a and b)
the average enrichment of HDW in the zone nearest the surface is lower than it was initially.
concentrations of all solutes in HDW decrease because their partition coefficients are lowered.
1. ADP and KPi are taken up into LDW.
2. The reaction takes place with spontaneous production of ATP.
ADP2- and ATP3- and K+ have extremely large partition coefficients between LDW and LDW/HDW. This is entirely because of their ionic character. Anions in general, and phosphates in particular, have very great affinity for LDW, as has K+. They, therefore, create a steep osmotic pressure gradient. If water moves in to abolish this gradient, it will move into the region under negative pressure, thus converting much HDW to LDW. But this enzyme has folded in order to decrease its excess production of LDW. Therefore induction of more LDW and opening up of the cleft is prohibited. The osmotic pressure gradient, therefore, stands.
---


Figure 3: a cleft between protein domains contains zones of HDW and ofLDW; b, ADP and KPi partition into LDW which is not permitted to swell; thereaction takes place and c, the pressure due to the uncompensated osmoticpressure gradient converted LDW to HDW so that ATP was released.
---
Figures 3a and b show that uptakes of ADP and KPi do not increase LDW and do not open the cleft. The reaction takes place but the inability of water to move becomes a pressure acting on all the water in the cleft. In Fig.3c it converts LDW to HDW and releases all solutes from LDW, including ATP. Following release of solutes, zones of HDW and LDW reform at the surfaces (Fig 3a). This action of K+ salts to convert LDW to HDW with release of all solutes was observed in neutral cellulose acetate films with narrow pores. (See below.)
Cellulose Acetate Membranes
The infra red spectra of water in cellulose acetate membranes confirmed the basic hypothesis on which this treatment of enzymes rests (Wiggins and van Ryn, 1986). The membranes were soaked in water or solution; blotted dry; and their water contents, OH-stretch difference, infrared spectra, and ion contents measured. They did not swell: presumably the cross-linked matrix was too rigid. The three peak wave numbers of interest were: 3250 cm-1 (the value in ice, and, presumably LDW; 3444 cm-1 (bulk liquid water) and 3635 cm-1 (presumably HDW). Membranes soaked in water had a large peak at 3250 cm-1 and a smaller peak at 3635 cm-1 but nothing at 3444 cm-1.
Membranes soaked in 100 mM LiCl had a greatly increased peak at 3635 cm-1 which was as large as the peak at 3250 cm-1
Membranes soaked in 10 mM KCl had a broad band with a single peak at 3444 cm-1. These are now interpreted in the following way:
· the two peaks that revealed themselves inside the membrane pores, inexplicable at the time, are the overlapping bands in liquid water that have since been proposed to account for the single broad band at 3444 cm-1 (Wiggins, 2009).
· 100 mM LiCl accumulated into HDW, creating an osmotic pressure gradient which could not be eliminated by flux of water. It acted instead as a pressure gradient, greatly increasing the enrichment of HDW. The LiCl concentration in the membrane water was 22 mmol/kg water; i.e., although LiCl was accumulated into HDW, it was strongly excluded from LDW.
· 10 mM KCl accumulated into LDW, creating an osmotic pressure gradient which could not be eliminated by flux of water. It acted as a pressure on the water in the pore converting it to HDW with loss of all KCl. Immediately afterwards zones of HDW and LDW reformed in the pores. Thus, while bulk water was a mixture in space of microdomains of LDW and of HDW, pore water in the presence of 10 mM KCl, oscillated in time between HDW and LDW. They had the same single broad spectral band at 3444 cm-1. The observed concentration of KCl in the membranes was 10 mmol/kg water: i.e., it oscillated between 0 mM (in HDW) and some undetermined high concentration (in LDW).
Small-pored polyamide beads also reached a limit in swelling. They selectively took up a molecule like glucose with a modest partition coefficient, but then released it rapidly upon addition of 100 mM KNO3 which, evidently, created an osmotic pressure gradient requiring a larger flux of water than the matrix would allow. In the enzyme the limiting factor was not rigidity of the matrix but the force folding the protein to its active conformation, which in the present case was elimination of excess LDW. This has been suggested as the mechanism of sodium channel-opening (Wiggins, 2007). If water in the entrance compartment of the channel is predominantly LDW, the channel is closed to Na+. If K+, then accumulates into the LDW and water is not permitted to follow it to eliminate the osmotic pressure gradient, LDW converts to HDW and the channel loses K+ and is open to Na+. After passage of Na+ water reverts to LDW.
Reaction in LDW with Swelling
Let the enzyme be one that has partitioned into LDW and induced HDW. Let the reaction be
X + Y = Z